Online Casino Today (OCT) is an independent guide providing information regarding online casinos available in the UK. The purpose of this site is to help you find reputable online casinos with fair and honest gaming environments. The OCT team tests and assesses UK online casinos based on strict criteria. The top priority is to protect the users, as there are plenty of online casinos are that are neither legal nor worthwhile. To ensure our visitors have the best experience, we only list the best virtual casinos in the UK.
Our most important selection criteria
Every casino on OCT must follow these criteria:
The online casino must be certified on British soil.
Customer support must be available 24/7.
The deposit and collection methods must be secure.
The deadlines for collections must be five days maximum.
The catalogue of games must be varied and of high quality.
The RTP (return to player) needs to be displayed on each game.
There must be a welcome bonus to each new member of the casino.
The terms and conditions on the use of bonuses must be clear.
How's the Online Casino Today guide managed?
The website pages are broken down by clear sections so you can find your way around easily in just a few clicks. Our team favours quality, regardless of the theme. For example, our welcome bonus page lets you see all available offers. Lastly, we only review UK-certified online casinos.
The Online Casino Today team
Sebastien Frisco is the websites administrator and the owner of onlinecasino.today. The site's copywriter checks all of the content published. Contributors provide press kits as well as research and surveys based on online casinos in the United Kingdom. If you have any questions for the owner, please send an email to info@onlinecasino.partners.
Alternatively, you can contact him via post: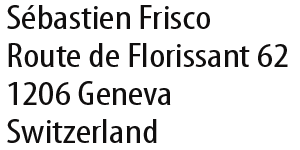 OnlineCasino.Today – Hosting and systems
The website's pages are hosted on the infrastructure of One.com in Denmark. The site uses WordPress to manage and create all the pages, which guarantees maximum security and comfort for users.
Responsibilities and legal limitations
OnlineCasino.today is not an online casino. Third parties provide the online casino games listed on our website. The owner of OnlineCasino.today and the website copywriters cannot be held responsible for any technical issues or financial losses. Moreover, all information published on this site may be subject, without notice, to updates. If you want to contact player support at an online casino, you must contact the staff at the casino. If you have complaints with an online casino, several institutions can help you. Visit our useful links page for more info.
Betting real money at online casinos
The owner of onlinecasino.today and the copywriters of this site may not be held responsible for any online gaming sessions. If you lose money while playing at an online casino, the people at onlinecasino.today are in no way responsible. We highlight responsible gaming at OCT. While we advise you to consult the websites on responsible gambling (see our pages of useful links), it's essential to keep gambling as a source of entertainment only. If you plan to bet real money, you should always do so in moderation, and within your budget. Be aware that casino games are games of chance that benefit gambling houses and not the players.
Playing on credit – A bad idea
We don't recommend using credit cards to make deposits, to avoid ending up in a tricky situation in the event of a loss. Various institutions and associations have repeatedly alerted the UK government that gambling on credit entails considerable risks. Government departments have heard these warnings, and there are plans in place to prevent any gambling on credit in the UK.
Business – OCT and affiliate programs
The online casinos listed on OCT are those of affiliate programs. Like with the majority of casino guides, OCT generates income through links displayed on the pages of this site.