Winning a whopping 2500x the bet is possible with Extreme Multifire Roulette! This game is a recent innovation from Switch Studios, an award-winning UK table game publisher.

You have to decide the size of your bet at the start of the game. The betting variations are £0.25 to £100 per round for bets on a single space on the wheel. The game has an RTP rate of 97.30% and is on the same level as slots paying out giant jackpots. If you opt for max bets, you could walk away with up to £250,000.




Since launching in October 2022, Extreme Multifire Roulette has built a strong audience in UK online casinos. Thanks to the game's success and the hundreds of players trying their luck every month, max jackpots could be one at any moment. The fact that Roulette is so popular means that players are constantly winning jackpots.

Just like with slot machines, when a game of the scope of Extreme Multifire Roulette becomes so popular, jackpots are constantly ready to pay out.
Roulette and Bigger Jackpots
Casino Roulette is part of the table games family. Like Blackjack, Roulette is huge with fans of classic games. Classic Roulette differs from slot machines and doesn't attract the same attention. However, it's a different story with games like Extreme Multifire Roulette that offer chances to win jackpots worth 2500x your bet. As a result, slot players see the extra appeal of Multifire Roulette.
Bonus numbers and win multipliers
During each game of Extreme Multifire Roulette, after players have put their chips on the game board, 1 to 3 Bonus Numbers appear on the screen. These fiery numbers come with win multipliers ranging from 50x to 500x.

In addition to the Bonus Number multipliers, an Extreme Multiplier increases winnings by 2 to 5 times! When all goes well, one of the Bonus Numbers displays a multiplier of 2500x. If you have bet on this number, you win the jackpot!
Bets and winnings on Extreme Multifire Roulette
Supplier
Switch Studios
Game Technology
JS, HTML5
Compatible PC and Mobile
Launch Date
31 October 2022
Bonus Numbers
from 1 to 3 each round
RTP Rate
97.3%
Payment Frequency
48.65%
Max. Winnings
2500x the bet on a single number
Betting Limits
from £0.25 to £100 on a single number
The betting limits in Roulette are variable. The biggest possible bets on the Extreme Multifire version of Roulette are on the single odds. So in terms of bets with the best options for massive jackpot winnings, you want to be betting on a single space on the wheel.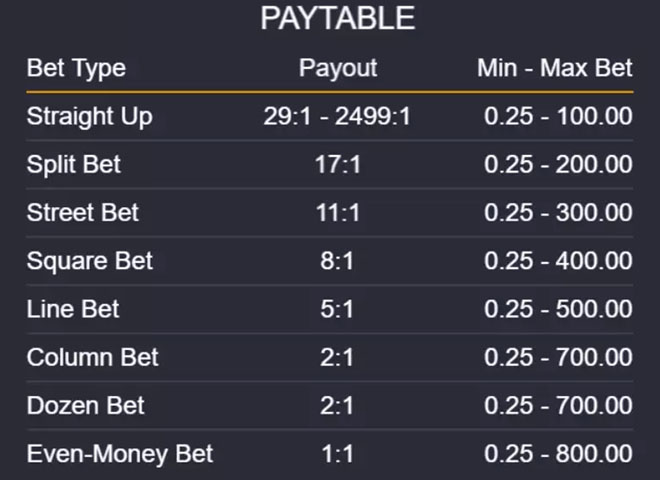 Unique Roulettes from Switch Studios
Games publisher Switch Studios is behind the Roulette games with the greatest potential for winning on the internet. Leveraging its games at UK online casinos, some Switch Studios Roulette wheels have huge payout options.

Switch Studio game feature on the symbolic site Luxury Casino. This games room is a trademark in the UK and an absolute favourite for British gamers. In addition, new customers can enjoy free bonuses on Switch Studios games.

The most surprising title from Switch Studios is Roulette Mega Moolah. For just £0.25 per spin, there is a chance of winning a multi-million-pound jackpot. The Mega Moolah concept is a network of progressive slot machines featuring a bonus wheel with constantly growing pots. One of these pots starts at 2 million.

Want to know more about the Mega Moolah concept? Head to the Mega Moolah Casino site for more info on the slot machines in the Mega Moolah network.
Multifire Winning Strategies
Do you want to know a trick to boost your chances of winning big on Extreme Multifire Roulette? Simply bet on several different numbers in a single round. For example, betting on ten individual squares in each round of Roulette increases the chances of winning by 10.

Unlike slot machines, where high bets increase the odds of winning, it has no impact with Extreme Multifire Roulette. By betting a pound on a single number, the potential winnings are still 2500x the bet.
Winning Tip #1: Bet on 36 numbers
Extreme Multifire Roulette rules allow betting on all 36 numbers on the wheel in a single round. It is also possible to include the zero square by putting chips on all 37 spaces at the same time. This way of betting is very effective in boosting your chances of winning. Moreover, when the winning bets are on Bonus Numbers, they pay much better than on classic Roulettes.

Betting on lots of Roulette numbers is often synonymous with record winnings. However, you must have enough money in the first place to use this strategy.

As the gambling house has a 2.7% edge on all bets made on Extreme Multifire Roulette, it is important to set personal betting limits.
Winning Tip #2: Set limits
The rules of Roulette games benefit the gambling houses by a few percent. On Extreme Multifire, the theoretical margin of the game is 2.7%. In terms of payout rates, it means an RTP rate of 97.3%. This rate is typical of classic single-zero Roulette.

With the Extreme Multifire Roulette game, they take a small fraction from Straight Up bets made on a single number. This fraction feeds into the winning multipliers of up to 2500x. Thanks to the creative process, this Roulette offers chances of winning immense sums of money.

To limit the casino's margin, you're better off determining the sums of money involved. Another vital limit to set is the amount of time you spend playing. Indeed, in casino Roulette, your chances of winning decrease if you play for too long.

According to the winners, the best tip to try and win the jackpot on Extreme Multifire Roulette is to play ten rounds with big bets. This way of playing is an excellent way to amass a fortune. But, of course, the luck factor always comes into play.
Comparison with Classic Roulette
The classic casino Roulette wheels, like the American and European wheels, offer potential max wins of 35x the bet with Straight Up bets on a single number. The same type of bet on Extreme Multifire Roulette pays 29x the stake. On the other hand, if your winning bets are on Bonus Numbers, it pays up to 2500 times the bet.

Regarding bets that are not just on a single number, whether you play Extreme Multifire Roulette or classic casino Roulette, there is no difference in payouts. In short, Extreme Multifire Roulette is primarily a game made for players betting on single numbers only.
Top Casinos for Extreme Multifire Roulette
A few different UK casino sites feature Extreme Multifire Roulette. For example, the first-class UK site Luxury Casino has all the games from the Switch Studios publisher. This casino site is huge with slots and table game fans and rates highly across UK guides.

Extreme Multifire Roulette winners
Since the release of Extreme Multifire Roulette in 2022, lucky players have taken home giant wins of over £100,000. Considering jackpot Roulette features on iconic UK online casinos, it is no surprise that British players are among the big winners. Although the game is new to the Roulette sections of casino sites affiliated with Switch Studios, Extreme Multifire Roulette already has a large following.